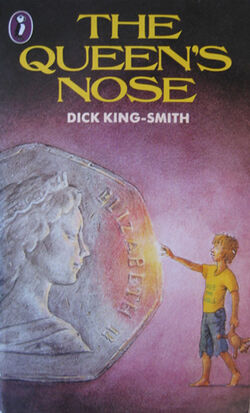 The Queen's Nose is a children's novel by Dick King-Smith, first published by Gollancz in 1983 with illustrations by Jill Bennett.
Set in England, where King-Smith lived, it features a girl who can use a fifty pence coin to make wishes. It was adapted as the 1995 TV series, which was a great success and ran for 7 series.
The book by Dick King Smith features the story of Harmony Parker, a 10-year-old girl who wants an animal of her own but is not allowed by her parents, who think animals are dirty. Harmony has a 15-year-old sister, Melody , who spends most of her time looking in a mirror. Harmony's best friend is a toy dog, Rex Ruff Monty.
Harmony believes animals are more interesting than humans and so she pictures the people she meets as animals. Her father is a sea lion, her mother a Pouter pigeon and her sister a Siamese cat.She receives a magic coin from her uncle, Ginger, that grants her seven wishes.